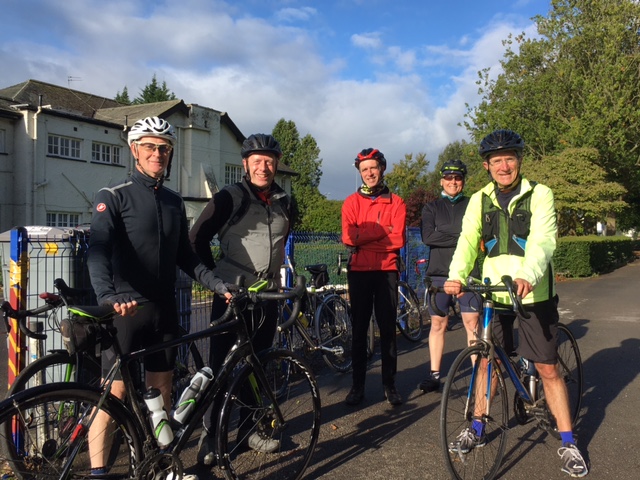 Showers were predicted, and after three apologies seven cyclists set out to meet at the Prep school car park, (without cars – just bikes) at 0945 on Sunday. The plan was to cycle from Hale Barns to Jodrell Bank, using the quietest possible roads, and after refreshments return home. Six made the
photocall outside the Brothers' house, but no 7 (Pete Taylor) messaged that he had a mechanical problem and would meet us at Jodrell Bank. After some perusal of the various bikes (overall improved since last time!) we set off at 10 o'clock.
All went well down Wicker Lane, Bankhall Lane, Ashley, Mobberley, there was some spitting rain but we were just one group among the legions of Sunday morning cyclists criss-crossing the quieter Cheshire lanes. On the last hill up from Bate Mill Tony Dixon's chain snapped. Did we have a chain
link extractor? Yes we did, we had at least three between us. Thank goodness. How many old boys does it take to repair a chain? The answer is just six, provided some have cycled LEJOG, and know what they are doing. Fortunately we had two Mikes, an Ian (and Pete on the way) who met that
description, no worries.
Safely arrived and queuing for food at Jodrell Bank café we pondered the age of the universe, and felt remarkably young. As we got the coffee orders in, Pete's second WhatsApp came in:

"Even worse news. Knocked off by an elderly lady car driver". This was alarming. We established that Pete was fortunately OK, despite being badly winded and bruised. Police and ambulance had attended the scene of the crash, but he had been allowed to go home, and was all in one piece.
We cycled the return leg rather more thoughtfully via Goostrey, Knutsford and had a second tea/coffee stop by Tatton Hall. Adrian Lewis, Simon Harrop and Mike O'Kell departed home from here, and the last three headed through Rostherne, via Ashley, back to Hale Barns.

The overall mileage varied, depending where people lived and had started from. Our route was just about 36 miles from St Ambrose Prep to Jodrell Bank and back. Northwich Mike managed to do 65 miles by visiting his Mum in Sale first. Despite the disaster of Pete's crash it was otherwise a safe and successful day. Thank you to those who attended. We hope to ride again with Pete Taylor very soon.

The 3hr Timed Strava Ride followed on 23rd and 24th October. The official results are as follows:
Mike Collins retains the trophy with an impressive 51.6 miles within 3 hours. This narrowly pipped Adrian Lewis who receives the most improved rider trophy, and King of the Mountains goes to Ian Taylor!
SAOB Cycle Club is a group on Strava. It is free to join and open to all old boys and their families. We also have a SAOBA Cycle Club WhatsApp group.
If you'd like to join the SAOBA cycle group please email Tony Dixon a-m-dixon@msn.com