18th Old Boys Dinner
9th November 2013
The "New Hale Barns", without that old familiar 1960s secondary school, and now without those old familiar 1960s buildings of The Square, was the setting for the 18th SAOBA dinner on a rainy, cold November evening. Several cars made the fruitless journey up the old familiar school drive, only to be turned away by a new barrier, before realising that "the New" St Ambrose had to be reached directly from the entrance on Hale Road.
Inside, the magnificent surroundings of the new St Ambrose's central space were professionally decorated with lights and feathers in a "Black and White" theme. After the customary informal assembly around the bar, punctuated by Chris Tofalos' flash photography (Cheshire Life? Are we that glamorous?), we were soon seated and the evening began with what seemed to be an original Sun Studio out-take of none other than Elvis Presley singing "I Believe".
Except that it wasn't, as would be explained later.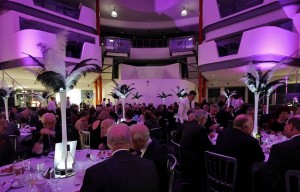 Peter Riley, much beloved MC of SAOBA opened the evening, "the second in the new school and the first in the new school without a music quiz!" to enthusiastic applause. He welcomed all present, including two tables of Loreto Ladies (or should he have said Old Girls?), whom he thanked for adding much needed glamour to the evening. Peter Riley thanked the Kennedy family for the complementary wine bottles on every table. He recalled John Kennedy's infamous 2012 Music Quiz with a couple of sample questions,
Quiz: "In 1968 the Beatles released their iconic White Album – but what was the year?"
Quiz: "Can you name 3 bands from the 1980s with the names of fruit in them?"
The Lemonheads, and Strawberry Switchblade were two, but the one no-one was able to guess was "Mel and Kim".
"The lovely" Linda Telfer won the Heads and Tails – and then drank the £50 prize – and that wouldn't be all!
After Grace said by Adam Mitcheson, the caterers from Franc's served Butternut squash soup, to be followed by a superb Chicken main course.
Dale Krause (current teacher of Woodwork, and RE) won the Kindle at the Stand up Bingo. But the question arose – who was the best woodwork teacher? Dale Krause or the late, great Don Hibbert? A spontaneous debate seemed to be settled when Table 9 produced three devastating Don Hibbert quotes, still as relevant today as they always were back then:
"Never plane against the grain"
"There are no mistakes, only readjustments"
"Keep your wood as long as you can, for as long as you can"
Dale Krause had no answer to that, and gracefully accepted second place.
The raffle was held following the delicious chocolate and ice cream dessert and before coffee. Marcus Qulligotti won the Henri Lloyd Coat, David Harrison, a non-golfer, won the Ringway 4-ball. Both Linda Telfer and Janet Ridley won the San Rocco's restaurant voucher. They won with a shared envelope so it would have to be a meal for two, although Peter Riley offered to make it three!
"Our guest speaker this evening needs no introduction. That's because we haven't got one". Peter Riley explained that we had booked a priest from Sierra Leone, Father Adu, but unfortunately he hadn't been able to attend because he was ill. So, without Father Adu, Peter introduced our Headmaster Mr Michael Thompson.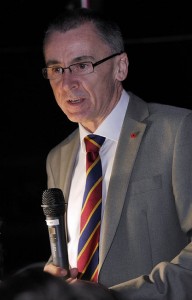 Michael Thompson gave a short humorous speech and he told two jokes. These were quite daring for a St Ambrose Headmaster and way too rude to repeat.
Bernard Stafford sold his entire stock of 21 remaining "Peter Saville" designer silk ties, and publicly announced his intention to retire as official SAOBA Tie Man, despite being in his prime (only 78!), to massive protests. Peter Riley reminisced about those previous dinners when Bernard would go home after loading up all the unsold ties in his trailer and covering them up with a tarpaulin. In his SAOBA career so far Bernard has sold approximately 2000 ties. He has been an inspiration and we hope he can be persuaded to stay.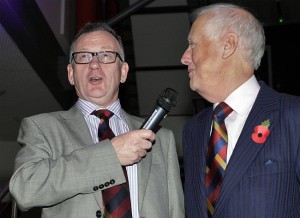 Donations were made by SAOBA to the Christie Hospital and to the forthcoming St Ambrose Cricket Team tour (the team had, in return, assisted by setting up the tables and serving drinks through the evening).
Kieran Charleson explained the earlier musical introduction in memory of the late Terry Gilligan, old boy, who tragically died from cancer early this year. The voice we had heard earlier was not Elvis, as we thought, but in fact a recording of Terry singing Elvis.
Terry had been in fantastic form at the 2012 dinner and entertained a number of Old Boys and former Loreto girls at an afterparty at the Bulls Head. He was the life and soul, both playing the guitar and singing some classic pop and soul numbers. The performance was class and Kieran told him "You are playing at next year's dinner".
And we made sure he did.
Very soon John Kennedy was delivering his customary closing thanks, and minibuses cars and taxis were arriving, some to take the sensible people reluctantly home, while the rest made for the Green Room at Goose Green for the after-party….