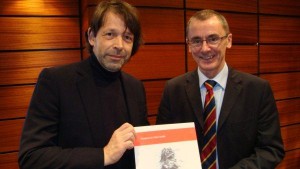 "Tonight is yet another in the long series of "last ever" dinners in this establishment", declared Master of Ceremonies, Peter Riley as he launched us into the 14th consecutive St Ambrose Old Boys' Dinner. "And in a moment, I'm going to ask Michael Thompson to tell us the 2009 reasons why the new school hasn't been built yet".
 Although Mr Thompson tried politely to respond, Peter was just warming to his task. First he was saying something about taxpayers' money, five years, £23 million and value for money. Then something else about Power, Corruption and Lies. Then, in passing, he mentioned St Ambrose's first MP (Greg Mulholland (Lib Dem), Leeds North West). Next, he began to wave two large house bricks above his head.
"Could Mr Thompson explain how Mr Michael Lochery, Headmaster of St Ambrose Preparatory school (loud cheers), had not made any speeches, or excuses, but had just gone away and quietly completed a major rebuild of his school within the last 12 months?" (cheer). "He did this despite having to work with (our own) George Tsiantar as the architect!" (big cheer). And tonight those of us coming up the school drive to the dinner will have seen the new Prep buildings built over the summer were still standing" (big cheer), "…and that's a first for George!"(huge cheer).
When finally permitted to do so, Michael  Thompson responded with  the good grace and eloquence of long practice. He explained that the school was about to choose between the final two building tenders this very week. After this, he told us, "construction could begin in April, with the skeleton of the new school built in about 8 weeks". That sounded fantastic. But of course, here was the catch: after fitting out, the new school would be "ready for use by September 2011". Our consolation being that next year, November 2010, we really could have the final "last ever" demolition dinner after all! "It's just like Déjà vu – all over again.  Isn't it Dave?! "This particular aside addressed to Dave Hallas.
At this point, just as it seemed that the Headmaster was about to explain further, there were loud cries of "Fire!" Yes, table seven  was on fire. A spectacular combination of Paper napkins and tea lights. It was the result of the sort of school boy, messing about, not paying attention behaviour you could get in the science lab. The irony being that this was the teachers' table and the culprits – the two physics teachers Mr Coan and Mr Furlong. Very childish. Need to grow up a bit.
After games of stand up bingo (cheers) and heads and tails (cheers), it was time to draw the raffle (oooh!).
Peter Riley made a formal introduction to Peter Saville, who left St Ambrose in 1974, and is now a leading internationally recognised designer. He has been a founding partner of Factory records (with the late Tony Wilson), designer of Manchester's Hacienda, and of album sleeves for bands including Joy Division, New Order, Pulp, Wham, Duran Duran, Peter Gabriel, Roxy Music, Orchestral Manoeuvres in the Dark…….and John and Edward  (really?).
Last month, one of his album covers, "Power, Corruption and Lies", was chosen as one of a small group of classic album covers to be made into Royal Mail postage stamps, another first for St Ambrose.
"I was hoping that Peter Saville might have brought one of his postage stamps with him, so that Michael Thompson could have written on the back of it everything he knows about how to build a school".
"In a moment Peter Saville is going to visit his old Art Room which he left in 1974. Mr Howard tells me that the school has kept the Art room completely unchanged for the last 35 years, and if the Headmaster has anything to do with it, it will probably still be the case in another 35 years".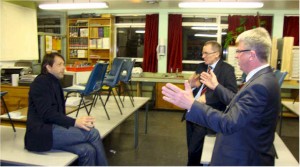 Mark Gallimore  was introduced to his fellow committee members "as no-one had seen him for 12 months". Mark had personally (with daughters assistance) designed our raffle ticket receptacle. This was yellow, (perhaps suggesting Mark's own Hacienda style influences), bucket-shaped and prominently yet ironically emblazoned with the word "BINGO". Peter Saville looked suitably impressed. Tony Harper and Dan Swallow were lucky prize winners.
Peter Saville kindly presented a copy of his book "Designed by Peter Saville" for the St Ambrose school library, and in return Michael Thompson presented Peter with a St Ambrose College crest and possibly the last old boy tie from the school stock.
Peter headed up to the visit school Art room, where it all began.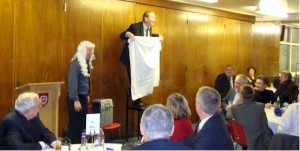 Bill Dixon and a mysterious and glamorous assistant took the floor and greatly entertained us with a bizarre and hilarious, audience-participatory series of lightning magic tricks, using white sheets. These were fast, brilliant and  defied description. The pictures do not do it justice. You had to be there. He rounded up with the obligatory Irish jokes to enormous cheers.
The room was advised that our Chairman had , like the rest of us, been affected by the credit crunch. However he had just made a few million quid from his latest venture having " recently  opened up a paddle shop in sh*t creek".
Having been so introduced,  John Kennedy presented £500 from SAOBA for kit sponsorship to the St Ambrose Old Boys' Rugby XV, represented by Tom King (capt) and James Conville. They will play the St Ambrose First XV on Wednesday December 16th at St Ambrose College for the prestigious Brother Doyle Cup. All are welcome. Tom King replied, expressing the  thanks from the team and presented John with a bottle of wine. We wish them the best of luck in their forthcoming match against the school.
The dinner by Francs was historic. Formalities over it was time to hit the bar (again)..
See you there in 2010.