23rd St Ambrose Old Boys' Dinner, November 17th 2018
Not only a new school, but a modified Bull's Head and a totally rebuilt Hale Barns Square. These changes to our familiar landmarks only served to emphasise the passing of the years as we assembled for the 23rd SAOBA Dinner. Tonight we gathered, for the first time as an all-male event. Coincidentally no females were present! For various reasons, no teachers' wives, no Loreto Old Girls had made it this year. Echoes of Henry V? "We few, we happy few, we band of brothers…!"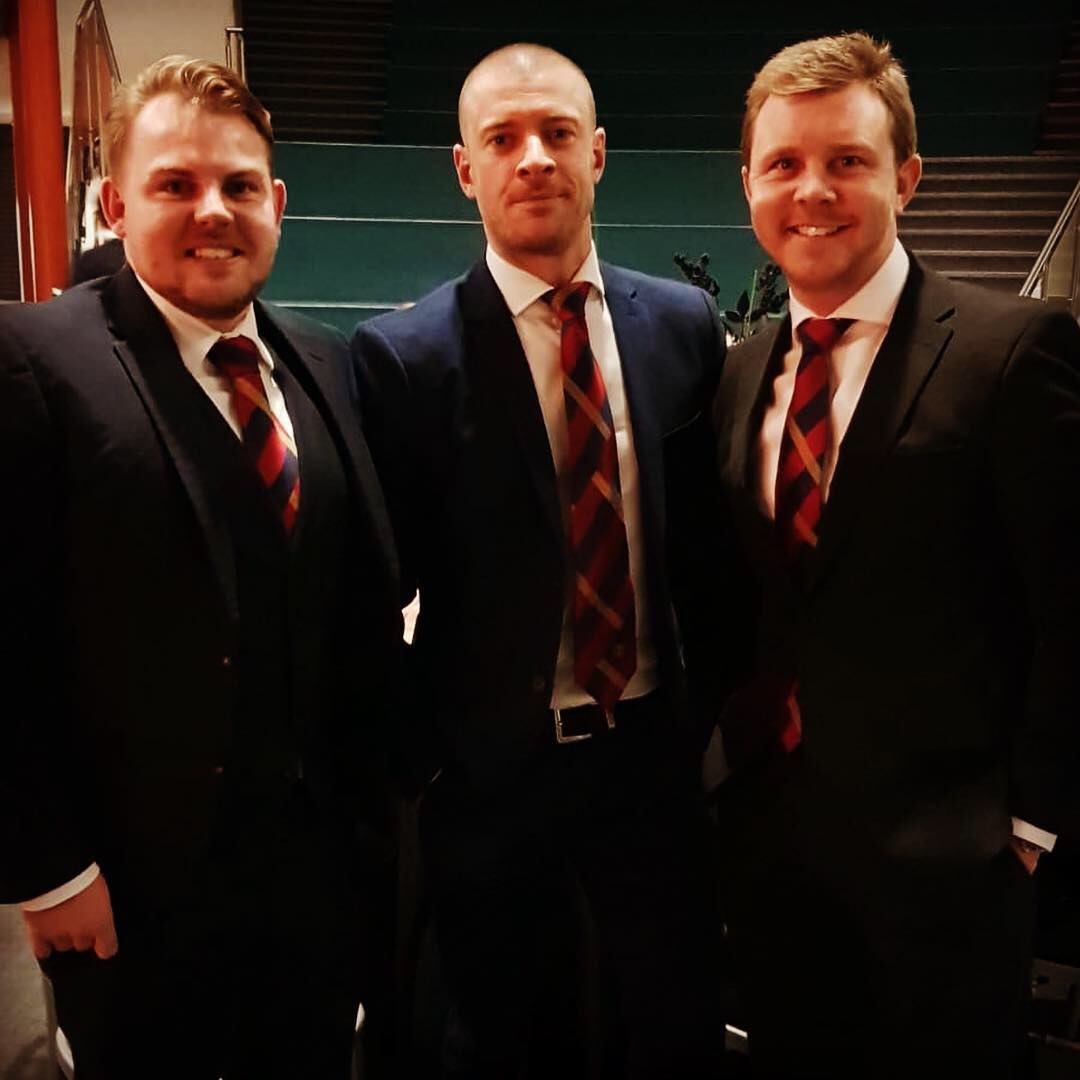 Peter Riley our outstanding MC for the 19th time, opened proceedings and introduced the Old Boys to Mr Dermot Rainey, Acting Headmaster of St Ambrose College. We had the customary opening game of Heads and Tails, won by Mr Mark Elwell who very generously donated back the £50 cash prize to rapturous applause.
George Tsiantar kindly said Grace before the meal in fluent Greek, another first for the Old Boys Association.
Bernard Stafford was in his element, and as soon as the starters were served, he began selling the ties to the newly attending Class of 2018, spurred on by his recent stock take. Despite the uncertainty over Brexit, SAOBA tie prices have remained rock steady, with the same world-class offer of "one for £15, two for £30". Have SAOBA ties outperformed Sterling? Mark Payne and Nick Payne, both business-minded men, managed to negotiate Bernard down to an amazing and unrepeatable offer of 2 ties for £40, to general gasps of amazement.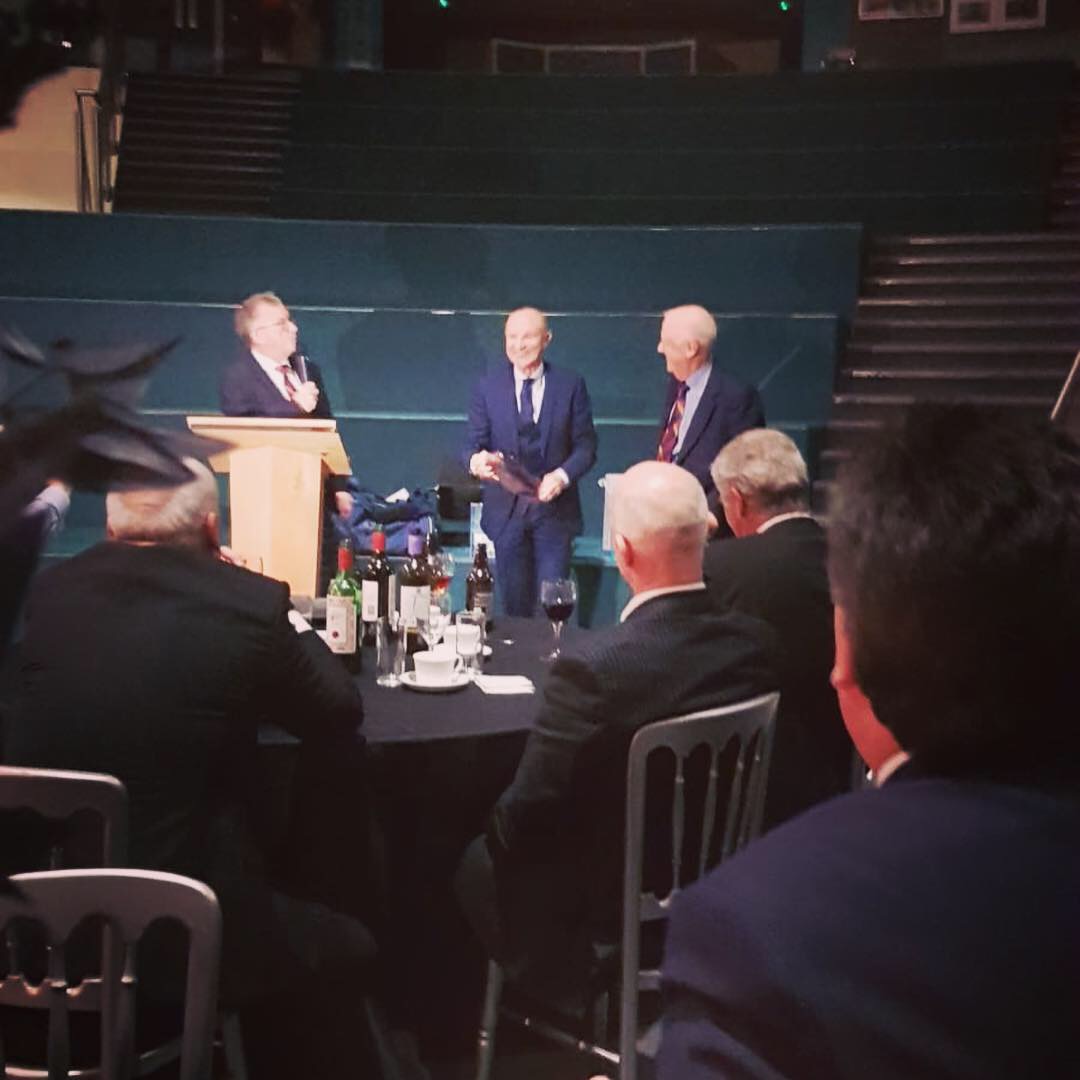 After our delicious Lamb Shank main course and Chocolate and Berries dessert, tea and coffee were served and we were ready for the main event of the evening. We were delighted and honoured that Manchester City and England football legend Dennis Tueart was able to join us to speak at our 23rd SAOBA dinner. Dennis gave a thoughtful and entertaining account of his personal journey through his remarkable career in football. He described growing up in Newcastle, signing for arch-rivals Sunderland and winning the 1973 FA Cup, then moving on to Manchester City. During his time with City he scored the unforgettable winning goal of the 1976 League Cup final at Wembley with one of his trademark overhead kicks. He later described this as the goal of his career.
Dennis turned down approaches from both Manchester United and Nottingham Forest, choosing to move to the USA to play for the New York Cosmos. In New York he replaced Pele himself, and played alongside Franz Beckenbauer and a host of international stars. After four glamorous years in the US and touring with the Cosmos he returned to play for Malcolm Allison's Manchester City, and to settle and start a family (where his sons attended St Ambrose College). He went on to become a director at Manchester City. Dennis very kindly took questions from the floor and signed copies of his book, "My Football Journey".
Peter Riley revealed that he had been there at Wembley for the Dennis's 1976 League Cup final against Newcastle, and had kept his programme, signed by the winning Manchester City team, in perfect condition for over 40 years. Very generously he presented this to Tony Dixon, the long-serving SAOBA Secretary, in return for a 2 year renewable contract and this was graciously accepted.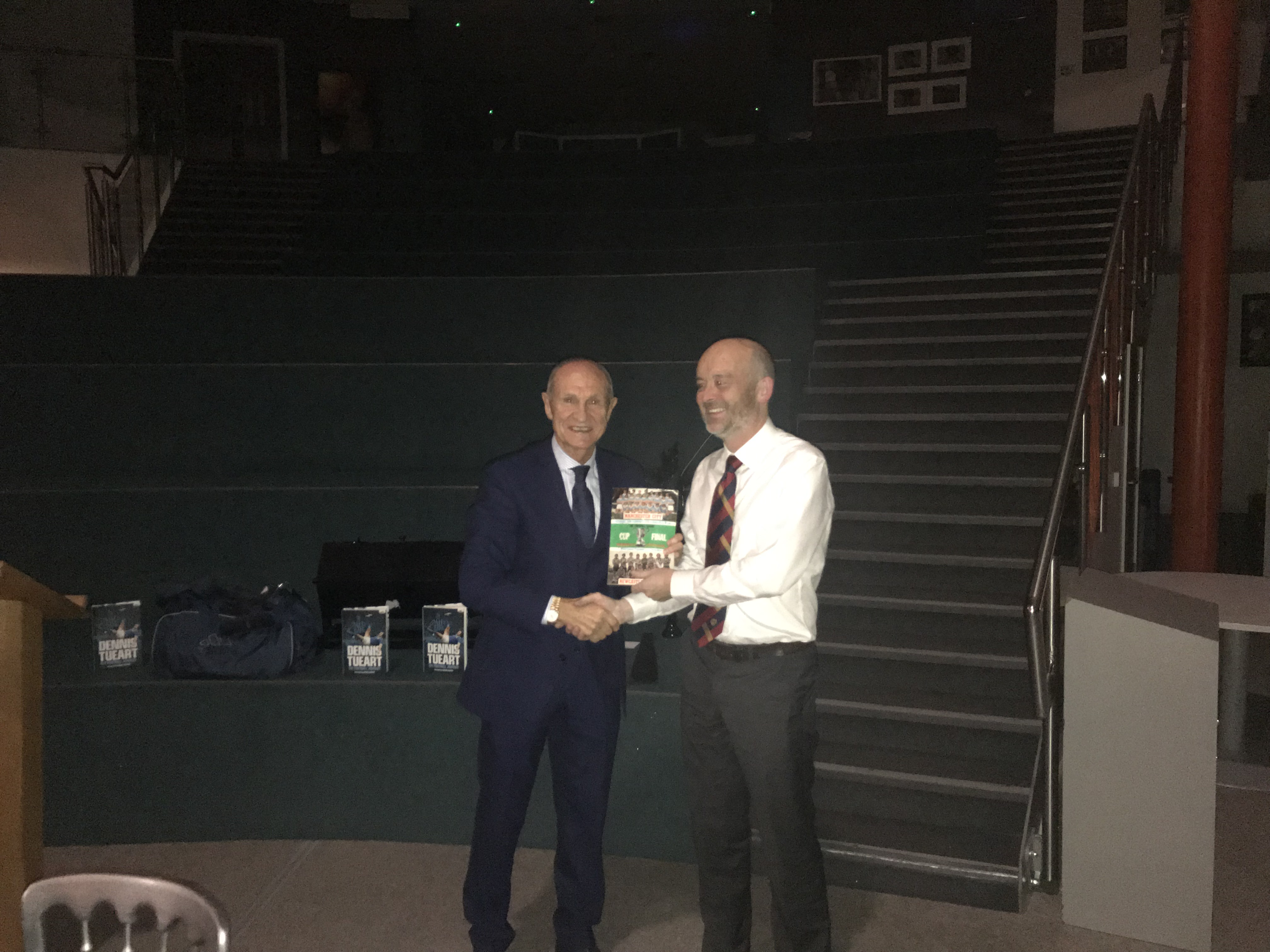 Felix Egan from the class of 2018 drew the raffle, the Amazon Echo was won by Mr Mark Elwell – his second big win of the night, so he decided to keep the prize this time, and incredibly the Bottle of Champagne was won by Felix himself (Can you win your own raffle? – the consensus from the floor said "yes"), and John Tueart, fresh from rehearsals of "Little House on the Prairie", and one of those few in the room without a tie, won the SAOBA Peter Saville designed tie. The Ringway Golf Club 4-ball prize (courtesy of ex Captain of the Ringway Club, Mr Peter Fitzpatrick) was won by Anthony Potts.
Peter Riley presented the awards for the 2018 SAOBA Golf and Cycling events, to Dave Wilkinson and Mike O'Kell respectively, accepted on their behalf by Mark Gallimore and Ciaran Booth. Both fine rugby players, Mark (St Ambrose class of 1978 and Altrincham Kersal RUFC) and Ciaran (St Ambrose class of 2018 and now with Sale Sharks) were compared as an example of rugby player inflation over the past 40 years. Both of these gentlemen had the honour of being 1st XV rugby captain during their time at the school.
Bringing matters towards conclusion, Adam Mitcheson made a sincere Chairman's speech and explained our £250 cheque presentation to the CALM charity (Campaign Against Living Miserably) aiming to reduce the terrible toll of male suicide. This has been the charity focus of this year's dinner. Adam went on to describe the strength and potential of the St Ambrose network with the utility of its connections from the school to a range of fields in the wider world.
And all too soon, our time was up for another year.
Peter Riley closed the dinner to applause, and the assembled gathering said their goodbyes and departed to their carriages home or some to the bright lights of Hale and the Goose Green area of Altrincham. We look forward to seeing you at the 2019 dinner.