No matter how unplayable it is, someone is going to win. It's just getting your head around it and getting on with it. Whinging won't get it done"

– Tony Jacklin, commenting on Royal Lytham and St Annes Open, 16 July 2012
It was spitting down outside, rising to a steady drizzle, after a week of more or less constant rain. The Royal Hale course had been declared unfit the previous weekend, but today it was just about playable. Fitz had arranged the competitions and written out the score cards and Maccie had made the burgers as the St Ambrose Golf Society began to arrive. Matt Dempsey returned in glowing triumph after his 2012 success, carrying the St Ambrose Old Boys' Open Claret Jug Trophy, gloriously polished.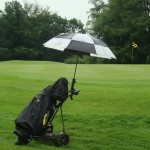 By the time the teams had assembled, the rain was bouncing down. Golf trolleys sprouted large umbrellas. After the traditional last minute team changes, (magnificently and selflessly solved by Fitz jumping ship from Team 3 to Team 4) we had seven teams all setting off approximately on schedule. Nobody putted before teeing off, and by the time the teams were half way round the putting green was beginning to flood.
Despite the conditions, nobody opted out and 24 old boys took to the course, in seven teams, all fortified by Maccies legendary home made burgers, sausage and salad, washed down with hot coffee. No teams or individuals dropped out on account of the weather; there was nearly £500 worth of golf equipment as prizes to be played for after all.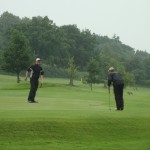 Once everyone had changed, dried off and reflected, it was clear that considering the appalling weather, and considering it was Friday the 13th, the day had been a great success. At dinner SAOBA chairman John Kennedy remembered John Sheehan, Paul Kearns and Barry Butler who have recently passed.He thanked everyone for turning out and braving the conditions; easily the worst we have ever endured. He thanked the Greenkeeper for the outstanding condition of the course, Brendan and Ann McNamara for the catering, which was an excellent smoked salmon and melon starter followed by a beef, pork and ham carvery with all the trimmings which went down extremely well. He thanked Peter Fitzpatrick and Matt Dempsey for their organisational efforts and finished by looking forward to next year's event. Date to be supplied when known.
 Results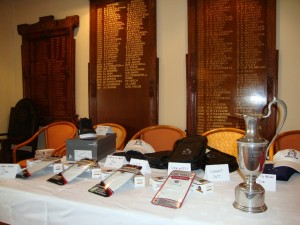 Longest Putt – No Result (due to waterlogged green!)
Straightest Drive on the 10th – Alan Hough
Nearest the Pin 16th – Peter Riley
4 Man Team (score adjusted for 3 players)
2nd Place with 85 points: Matt Kendrew, Alan Hough, Matt Dempsey
1st Place with 90 points: Joe Kennedy, Michael Kennedy, John Kennedy
Handicap 18 and over Individual Player category
2nd Place 37 points: John Kennedy
1st Place 38 points: Patrick Kennedy
Handicap 17 and under Individual Player category
2nd Place 39 points (CPO 16 points back 9): Neale Gunning
1st Place 39 points (CPO 18 points back 9): Alan Hough
Overall Individual Winner
Alan Hough
Previous Winners of St Ambrose Old Boys' Open
1997 – M Tully
1998 – G Earlam
1999 – M Strzelecki
2000 – M Quiligotti
2001 – S J Thompson
2002 – J Kelsey
2003 – D Leach
2004 – E Dwyer
2005 – D Wilkinson
2006 – J Kennedy
2007 – M Quiligotti
2009 – R Devine
2010 – B Coghlan
2011 – M Dempsey
Gallery