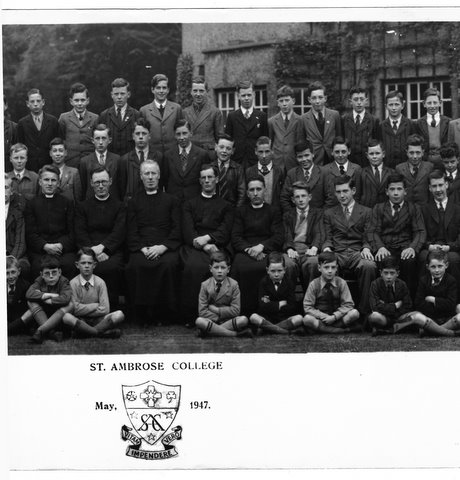 1947 School photo – and message from Old Boy Mick Quinlan
"When my brothers and I went to the school it was on Dunham Road and opposite the German POW camp. I would add that prior to it being a German POW camp it was also a camp for British soldiers but also the yanks. Who, if my memory serves well came in a jeep with Father Christmas aboard doling out candy and stuff!
The first badge I recall was a cross with a host at its centre and the motto was: 'Dirigat Nos Deus' (With God As Our Guide). Most likely I've got the Latin wrong. When the De La Salle brothers returned to Guernsey shortly after the war the Irish Christian Brothers took over and the school moved eventually to Hale Barns. The badge was changed to the one by the Irish Brothers…there is even a shamrock on it…nice touch that.
The motto is: 'Vitam Impendre Vero',,,,Life Depends on The Truth".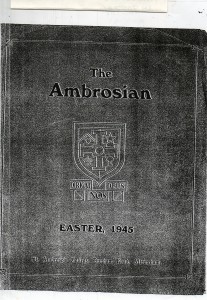 Front cover of the Easter 1945 Edition of the Ambrosian, from the De La Salle era, based at Dunham Road
Planning the new St Ambrose – 1959 brochure
Opening the new College – 1963