You couldn't make it up!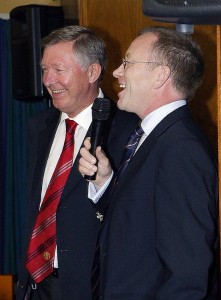 To say the 10th Annual SAOBA Dinner was eventful is an understatement. In fact you couldn't have made it up, really.
For the first year ever we had the bar in the entrance foyer and the dinner in the refectory and with candles and flowers it was set to be a very intimate affair for the 100OB's and guests.
Bernard "Tie Man"Stafford was showing good early form, mercurial in the foyer with relentless, direct selling of SAOBA ties. His strike count early doors was phenomenal. Little did we know that we were merely observing a light workout by a true professional compared to what he was to show us later in the evening.
Brother George Gordon said grace before dinner and returned to his table which included amongst others the College and Prep Headmasters and wives and Mrs Handford, sparkling and shining as ever.
"I didn't touch it!" he volunteered as the table immediately collapsed when he touched it –  sending wine, glasses, plates, food and flowers crashing to the floor and over best frocks and trousers. After some excellent rushing about activity by bar staff the table was reassembled just in time for the fire alarm to go off, at which point we were ordered outside by Mr Thompson the Headmaster.
After a nice break in the evening air, the fire brigade arrived for the false alarm and we returned to our tables to resume dinner. The naughty boys who caused the alarm by smoking in the foyer were told off by Mr Thompson and were asked to do it outside, (which they had just been doing anyway, whilst waiting for the firemen).
Pete Riley announced the raffle and as an aside stated that someone, who we would probably know, was going to help him with the raffle. –  At which point Sir Alex Ferguson  walked into the refectory. (You might want to read that last sentence again).
Alex was obviously keen to do the raffle as he immediately went for the raffle bucket in Pete's hands. Pete reprimanded  him for being over keen, like the Bayern Munich Manager who took hold of the trophy rather prematurely in the Champions League Final. Alex acknowledged the comparison and suitably chastened, settled back and started when Pete wanted him to.
The scent of match fixing was in the air when the first prize Henri Lloyd jacket was won by the SAOBA chairman's father, Joe – and the second prize by the chairman's brother Mike, which Sir Alex presented to them with a canny and knowing smile, whilst having a slight poke at Joe Kennedy's colourful jacket.
Whilst drawing a further ticket Pete enquired of Alex if this was how he picked the team on a Saturday. Alex responded that he did against Blackburn-  Hey! Like brothers they were.
Pete chastised Mrs Handford for swearing when she had the right numbers but wrong colour ticket. "It's only a raffle Mrs Hanford" he rightly reminded her.
Sir Alex then held centre stage with perspectives of his time in football management, observations on life, the human character, Manchester United, and basically what a great life he has had. Which was true, because he has.
He was also graceful, courteous, charming and grateful – aspects which the media does not highlight. It was an absolute pleasure to have him in our company.
Sir Alex was about to leave when he struck, Bernard that is. Van Nistelrooy like, he timed his run with perfection and whacked a SAOBA tie into Alex Ferguson's hand. Not for Sir Alex the now famous, world beating offer of "One for £15, two for £30". No, he actually presented the tie free of charge. Yes, I'll repeat that . He actually presented the tie free of charge.
We had just witnessed the most astonishing turn in an already eventful evening. Perhaps Bernard had reconciled that as Sir Alex had given his time freely, he would be able to make an appropriate contra in his accounts? Who knows? It was mind blowing anyway. A once in a lifetime, never seen before act of generosity in Bernard's illustrious tie selling career with SAOBA.  Bernard then had 73 photographs taken with himself and Sir Alex, after which he (AF) was allowed to leave, to applause.
Pete Riley regained ownership of the stage and made us all aware that Mrs Handford had lost her purse in the earlier table debacle. (She found it in the bin at  the back of the kitchen. Which suggests that the purse might not have at least appeared to have been, of the highest quality to have found itself there …and I know the tale is true because she told me herself).
Anyway, Pete told us that in Mrs Handford's purse were 2x £1 coins, 2x 50p pieces and a 20p. The question being "How much money did Mrs Hanford have in her purse?" I found that one particularly funny.
Well done to Pete …it was your best night yet.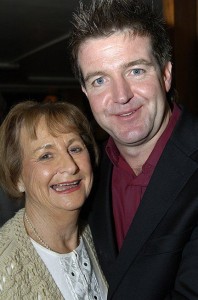 Old Boy and now TV, Radio and pre-Wembley match famous tenor, Martin Toal, dropped by after his concert at the Waterside Theatre. ( I know it just does n't stop does it!). He banged out at least half a dozen classics including "Volare", one that I can't remember, but he gets down on his knees to Mrs Handford and finished off with "The Fields of Athenry". Resounding or what?
John Kennedy, who has led SAOBA wonderfully since inception as Chairman, tried to retire from the role, but Pete Riley spoke for all and refused his retirement! This was John's 10th event and it is to his personal credit that it was  – simply the best.