2007 St Ambrose Old Boys Dinner Report
"Our guest speaker tonight needs no introduction " –  announced  MC  Pete Riley ……"because he's not here…!"
The only evidence of Mark Cueto's presence was his signed England shirt hanging off the stage wall. (Raffle prize of course)
And so  with Mark unfortunately having to postpone his visit to us earlier in the week, someone else had to be found to interview.
But that was not before variousOB's , staff and former staff were picked out for a variety of beatings including Nigel Handy and Tony Furlong.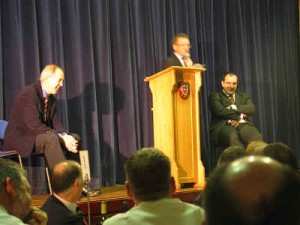 Peter commented that he had spoken at two other dinners in the area recently – the Timperley Sado Masochists and PVC Rubber Wearers Convention and the Wilmslow Whip me, Strip Me and Smother me in Baby Oil Boys Club Dinner………."so this will be the third time Nigel Handy has seen me in the past 10 days."  You had to be there really but he does do such a good job  …who needs a guest speaker?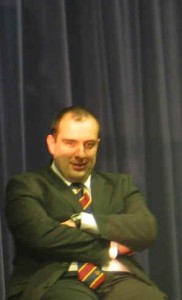 Were teachers brainier (as they say students  were) 20 years ago …Who knows….? Put to the the test by Peter on the night however, Ambrose Henderson – Old boy and current teacher, (PembrokeCollege,Cambridge) got beat  3 – 0 in a challenge  – by former teacher Dave Hallas ( been to school). Mr Hallas was able to accurately respond to some challenging history questions and unfortunately Ambrose wasn't up to the old quantum physics.  Dave was  the  popular winner – as we have come to expect.
Joan Handford and Sam Wilkinson had both accepted invitations to this year's dinner and their sad passing was witnessed with the appropriate silence –  followed by applause from the 140 who attended this 12th annual  event. Such is the nature of these nights that both received accolades and posthumous ribbing.
Pete recalled a parents evening where his parents had been assured by Mrs Handford that they need not worry about his Maths O level performance as "80% of my  boys get  A's and the other 30% Bs and Cs".
Sam and Joan will be particularly  missed  as both regularly attended the associations dinners and so had reacquainted themselves with  many in recent years – and as Pete noted –  both had paid – so we were up on the night!
If you haven't been to one yet – you need to go next year.
Kieran Charleson