What a night that was!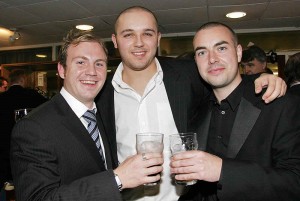 The diamond jubilee of the college, food by Nick Banks, a free bar, our biggest and youngest crowd for years enjoyed a superb speech by Brendan Moriarty, then excellent music thanks to Des Charleson. All compered by the inimitable Mr Pete Riley. There was no trouble, and this year nobody tried to burn down the school ahead of the scheduled demolition.
This year our After Dinner Speaker was (following family tradition) – yet another Moriarty, Brendan, who had recently appeared on BBC TV's "Mastermind". His main topic was not the easiest – the life and works of  Sir Winston Churchill. Although Brendan did not disclose further details of his performance, one of his brothers in the audience was heard to shout "he didn't even come last!". Introduced – of course – Pete Riley humming the Mastermind theme, Brendan  firstly paid tribute to our forward looking and progressive Headmaster Mr Michael Thompson, and looked back at the careers of some previous Headmasters, including Brother Foley, Brother Gleeson and Brother Valeryan O'Shea.
After the dinner and speeches were over, accompanied by his trusty guitar, his powerful voice and a pint glass full of essential tonsil lubricant Des Charleson took the stage to treat us to some entertainment from the land of our fathers (or for some, grandfathers). He quickly overcame some technical glitches with the school PA system by discarding his mike and decisively disconnecting his guitar.
One had the feeling that as an experienced performer in Dublin, Des was in no way overawed by a home crowd at St Ambrose. He not only sang the songs powerfully and without any amplification, but gave us some of the history behind the songs. Firstly introducing us to Ewan MacColl's "Dirty Old Town" (originally written about Salford) and following up with "Guantanamera", (now frequently heard on the football terraces, but originally about the dancing girls of Guantanamo bay in Cuba), and then "A Pair of Brown Eyes" written by Shane MacGowan of the Pogues, ("Him with no teeth" who Des had met in Dublin). He quickly got the crowd on his side with some rousing choruses of these classics. In between Des performed some extremely challenging unaccompanied singing, without the help of guitar or audience. His voice was more than equal to the task and after "Pull away toAustralia", he was called back for an encore and left the stage to rousing applause.
We hope it won't be the last time!