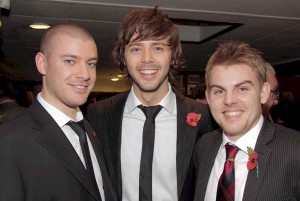 "Gentlemen! …and Ladies!" This year Michael Thompson had a group of workers ready to complete the school on schedule, to a high quality and within budget."Unfortunately 33 of them got trapped down a mine for 69 days. In Chile."
By 7.30pm in the St Ambrose College foyer, complete with artists' impressions of the new St Ambrose, the 15th dinner was under way. Official SAOBA photographer ChrisTofalos vied amiably with Cheshire life photographer John Cox to frame a beaming Bernard Stafford with his rapidly depleting stock of Mk 3 "Peter Saville" SAOBA ties (also available by Mail Order).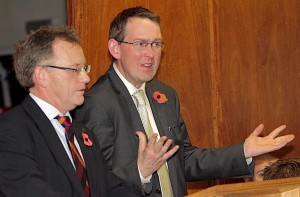 Old boy Paul Maynard MP (Blackpool North and Cleveleys) posed with the headmaster by his original 1980s school photograph. We had sold out to the capacity, as old boys, former teachers including Sean Fleming, Dave Hallas, Frank Coan, Brother John Sullivan, and current teachers including our guest of honour Dave Lindsay mingled with (for the first time ever) a contingent of Loreto Old Girls to mark the founding of their own Alumni association "Gen
tlemen … and Ladies – I use the term loosely"….the ladies hissed too early before Peter Riley added  "..they're not all gentlemen".
"Welcome to the Fifth anniversary of our First Last-ever dinner". Mike Budd, Mark Gallimore, and George Tsiantar were called up to the lectern for the appropriate punishment for breaching the dress code (down in one). He then moved on to the traditional questioning of the continued absence of the new school, despite the availability of the video – mentioning a number of world famous building projects that had not been heralded with the production of a DVD; the Roman Coliseum, the Taj Mahal and the Great Wall of China (all chorus) "No previous DVD!"
John Kennedy gave his usual closing address a little ahead of schedule this year and led the assembled chorus in a rousing version of the traditional "Happy Birthday Dear Patsy" for the Headmasters wife. Mr Thompson replied, recalling the late Joan Handfords story of Mr Riley's schoolboy mathematics, which explained why the school had better keep control of the £23 million. We moved on to a novel Ladies only game of Heads and Tails won by Janet Harrison, who very graciously donated the £25 prize money back to the school. This year's SAOBA donation cheques to the Poppy Appeal (£100) and the school's Sierra Leone appeal (£500) were presented by Simon Harrop and Tony Dixon. Grace was said by Fr David Roberts, before we tucked into our Boudin Noir starter, Pieces de Boeuf main course and the Orange and Ginger Sponge pudding from Francs of Altrincham. Stand Up Bingo was won by Eddie Coxon – £50, and he gave it back! Paul Maynard MP kindly drew the raffle for prizes including a Henri Lloyd Coat and a superb carved cedar Owl created by Tim Burgess (former Chief Inspector for Manchester Airport, now a Champion European Chain Saw Artist) which was won by Dave Law. The golfing four ball at Ringway GC was won by Johnny Witcombe, and the champagne was won by Mike Tulley and Jim Mooney. At our own MPs Question Time, Paul Maynard MP fielded three "randomly selected questions" from Dave from Sale, DWH of South Manchester, and a retired PE and History Teacher from Near Altrincham respectively. The capital punishment question seemed to go down the best: "Surely it is better to hang 12 innocent men than let one guilty one go free!"
Bernard Stafford was given a platform to sell his ties – all 103 of them because he likes to buy in nice, round dozens! We eventually teased out of him that they were still £15 each and still two for £30! Next up was Adam Mitcheson, making his debut at the lectern who led us through the "Dave vs Dave" Quiz. Billed as an epic bout to rival David Haye and Audley Harrison (in another part of Manchester the same evening), this featured some classic quotes from two of our favourite teachers.
"Full Stop. Same Sentence"
"If you fall down from there and break your legs, don't come running to me"
"OK lads, I want you to give 80% for 100 minutes".
On a point of football etiquette, what does one say when stood in the centre circle of a packed Old Trafford, if one is asked to name your favourite player?
"Actually I'm a Man City fan" may not have been diplomatic, but it was totally honest and courageous.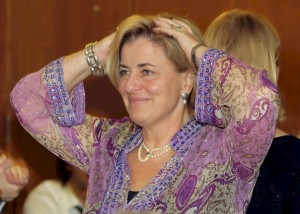 Dave Lindsay must be the only Politics teacher ever to be booed off the pitch by 70,000 Manchester United fans. To this day he is held in enormous respect at St Ambrose as a true legend, and a most worthy guest of honour. Paula Hessenberger delivered a generous reply and thanks from the Loreto OGs. The LOGS girls seem to enjoy it so much that they might become a permanent fixture.The loudest cheer of the night was once again reserved for Mr Dave Hallas.
For some it was taxis, home, for others a final drink, and a few, the delights of suburban Hale. What a great evening.