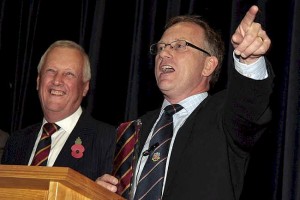 "I'd like to thank the Architects, the Planners, the Structural Engineers, the Demolition Team and the Builders for all their hard work  – demolishing and rebuilding the school in just 12 months, recreating an exact replica of the Old St Ambrose College, correct in every detail. It's hard to believe we are sitting in it tonight."
So began Pete Riley as he launched the thirteenth St Ambrose Old Boys Dinner, the night after hallowe'en. Spooky indeed, but could it be true? He wasted no time in calling up Mr Michael Thompson to explain exactly what had not happened to the new school and 23 million pounds of taxpayers money.  Just as Mr Thompson took the microphone to explain, the PA system failed (some felt the timing was highly suspicious).
120 old boys were joined by headmasters Mr Michael Thompson and Mr Michael Lochery, and colleagues past and present for a superb meal cooked on the premises by Nick Banks of Francs restaurant. Attending teaching staff included Mr Nigel Handy, Mr Dave Hallas (bravely attending on crutches this year, supported by Judith, his "carer" for the evening), Mr Tony Furlong and Mr Fran Coan from the Physics Department ("all the knowledge of Professor Stephen Hawking, but less clearly explained"), former school secretary Mrs Joan Binns (now MacPherson), Mr Paul Burns, and Mr Mark Elwell. Newly appointed Deputy Headmaster Mr Tom Hutchison, and two visiting teaching colleagues from St Ambrose's twinned school inSouth Africa(Mr Mike Pike and Mr Peter Bekkler) were also able to join us.
It was officially announced that Mr and Mrs Hallas were celebrating their Ruby Wedding this year, and so they received a big cheer as they have been happily married for 25 years!                …not  bad out of 40.
The winner of the Heads and Tails game was invited to collect his £50 from Mr John Kennedy, but expressed some confusion as to whom John Kennedy was. "Is he the one in the wig?" he asked, pointing at the wrong person, "No" answered Mr Riley, "Nobody would make a wig like that". Ouch.
Grace was led by Father David Roberts and this was followed by an excellent dinner, (during which newly promoted School Sound Engineer Edward Thompson repaired the PA system), and proceedings resumed.
Our special guest speaker was introduced as a St Ambrose Old Boy (1978), who had trained as an Actor, and appeared in Torchwood, Heartbeat, Casualty, Waking The Dead, Holby Cityand many other familiar productions.
He had then apparently gone to Las Vegas to seek fame and fortune. And had apparently said that if he didn't make it big, he'd be back…!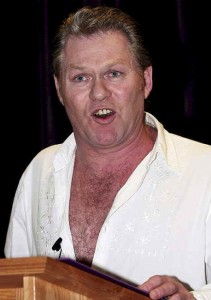 Brendan Charleson (for it was he) took the floor to loud applause and, as if in deference to our South African guests, launched into an official speech of thanks that seemed to come from the mouth of Nelson Mandela himself. He then moved on into a whirlwind tour of names and voices from our collective past including the late N.P.L "Sam" Wilkinson, (a familiar voice and delivery, so full of dramatic power, and still remembered whenever we think of digestion, hormones or DNA), Joan Handford, "There are 3 types of people in this world: those who can add up, and those who can't"), and of course Mr Geoffrey Chilcott, (still so respected as the master who never used corporal punishment, but who could silence a class "with a single flash of his dark, Welsh eyes"). The years fell away as we heard again Mr Chilcott's distinctive voice from long-past Geography lessons, combining his native South Walian with a hint of West Coast American, from his years spent inSan Francisco).
Accents and impersonations aside, Brendan treated us to an insight into the life of an actor, with all its diverse experiences –  illustrated with well-delivered songs and poems connected to his Irish family roots and Mancunian childhood (which most of us shared), but with an added Welsh flavour reflecting his current Cardiff home. It was refreshingly different from the usual After Dinner Speech, was original, respectfully received and shot through with moments of genius.
After the applause had settled down (for the second time) and Brendan had left us marvelling at the diversity his of talent, we were told the serious news of the evening.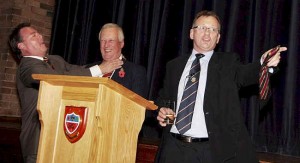 Bernard Stafford had finally sold out of ties. After ten years, and approximately 342 of them. Well, not quite. There was just one tie left……
Starting the bidding at just £10 (a genuine bargain for the credit crunch from the previous retail price of "£15 each, or two for £30"), the bidding began, and rather like the prices of the  VW shares or a Damien Hirst Pickled Shark, it just kept going up. Well, the ties were a limited edition, and this was the very last one.
Most of the audience tried not to blink (or make any kind of sudden movement) as bids appeared from all over the room, driving the price higher and higher. The price passed 100, hit 118, and then settled at £120. Fortunately nobody said "I'm going to 161" at that point, (although some were), let alone "call 999!"
Bernard was officially thanked and was clearly delighted to be presented with a tankard from the Association, and responded with  a short but unforgettable appeal,  condensing much of a lifetime's experience – on the merits of neckwear.
It only remained for our "not allowed to retire" Chairman John Kennedy to round up the evening with a vote of thanks before we were able to gradually and reluctantly disperse, taking leave of these school premises for (possibly) the last time,  reflecting on another great Old Boys dinner.